Traditions of a country are judged by its citizen's behavior, their religion, their language, their, their ceremonies, way of doing work and by their laws. All these ingredients mix together to form a culture of a country. However culture doesn't have an existence of its own. It is always dependent on people's belief and views, but it is also true that culture is a backbone of any country.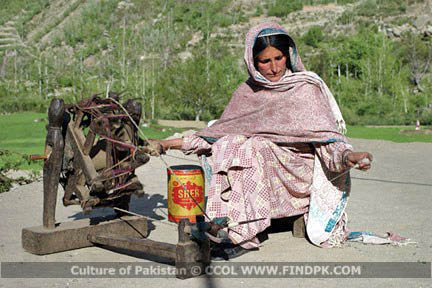 Pakistan's culture is somewhat relevant to that of India. Pakistan's culture name is Pakistani. This country is a blend of ancient as well as relatively new culture. The tribal areas have a history that dates back many centuries. And because this country has four provinces, Sind, Punjab, Baluchistan and Khyber Pakhtunkhwa, each province has a different tradition and culture which makes Pakistan's culture unique and more colorful. Dressing style of each province is also different while the national dress of Pakistan remains the Shalwar Kameez.
The capital of Pakistan is Islamabad; other big cities of Pakistan are Lahore, Karachi, Rawalpindi and Faisalabad. Pakistan was made in the name of Islam and so 95% of the population is born Muslims. However, there also exist people from other religions like Christianity, Sikhs and Hindus.
Pakistan is an Islamic country therefore all Islamic festivals are celebrated with great celebrations like 12th Rabi ul Awal. Eid ul Fitr, Eid ul Azha, Shab e Barat and the likes. The minorities also celebrate their festivals freely and openly and with Great Spirit. National festivals are also celebrated by Muslims and minorities together with Great Spirit like Independence Day 14th August, Defense day 6th September and Birthday of Quaid e Azam, the founder of the nation.
All the provinces have their own language which is dominant in their regions, although Urdu is the national language, which not only binds the nation in one but also acts as a nationwide mode of communication. In Punjab Punjabi is spoken, Sindhi in Sindh, Balochi is Baluchistan and Pashto in Khyber Pakhtunkhwa Sariki and Hindko are also spoken in Punjab. Due to administration and political ignorance provinces do have a cultural diversity but it is what the charm of the country is all about.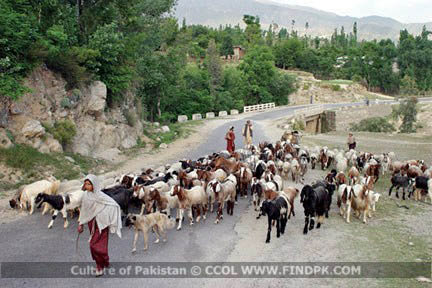 Pakistan is blessed with four weathers in a year, spring autumn, winter and summer. Due to ideal weather conditions wheat, rice and cotton are premier crops grown in Pakistan. These crops are also the premier agricultural exports of the country. Wheat and rice are main components in the daily diet.
Pakistan has always been a good attraction for tourists. Cities like Lahore, Karachi, Monjo Darrow and Thatta are blessed with historical places that are worth watching. Hill stations like Murree, Nathiya Galli, Abbotabad and Ziyarat are filled with natural beauty and are mostly filled with tourists throughout the year. Recently due to terrorism foreign tourists are reluctant to visit Pakistan but still the serene natural beauty, elegance and historic valor remain the main assets of the country.
There are many other places elegance and beauty in Pakistan that show entirely different side of the country. The streets of Lahore, the wide enclaves of Islamabad, the tall buildings of Karachi, the monuments of saints in Multan, the line of industries in Faisalabad and the handicrafts of Sialkot and Sargodha, all give their part in making Pakistan a platform with diverse culture unified in one.